How safe is your campus?
Nov. 16, 2023
Research
Wandering across university campuses, it is easy to observe how students behave in different areas at different times. Popular, and typically louder areas will fill with younger undergraduate students while more focused spaces tend to attract postgraduate and mature-age students. As evening falls, the campus becomes quieter and women tend to leave earlier. If they stay they are much more wary of their surroundings.
Is it OK if women feel less safe than men on campus?
Our Campus Experience Index is a standard set of questions to students about the facilities they use. In this, we ask them to rate their perceptions of safety and tell us what helps or hinders this feeling. Data from almost 12,000 students on campuses in Australia, the UK and Europe tells us that on every campus, except for 1, women feel less safe. The lowest scoring campus is 71% and the highest 97%.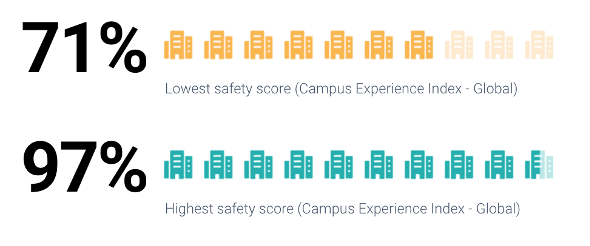 It is important to make a clear distinction: safety and sense of safety are two separate (but intertwined) considerations. A physical assault is very different from the fear of physical assault.
People adjust their behaviour based on their perception of risks in the environment around them. These behaviour changes are subtle and sometimes happen sub-consciously, but can have corrosive effects. Students who feel less safe will hang around on campus for less time and be more calculating of areas they access. Some will choose to miss classes or opt for online learning in preference to staying on campus into the evening.
Given that 59% of domestic enrolments in Australia are women, and the proportion of female international students is rising, it is critical that universities ensure access to facilities is equitable, and that women can use spaces with as much comfort and ease as men.
"I feel safe on campus during the day when there are lots of people around. As for night time I choose to leave campus before it gets dark because it is a very large space with plenty of opportunity for something to happen and I do not feel safe."
In Australia, the Accord review has ignited a conversation about campus safety. While there is a national focus on reporting and management of sexual assault, we also need to consider campus design, planning and programming. This will help prepare campuses as participation increases from different equity groups.
What do we know now about where sexual assaults happen on campuses?
Breaking down sexual assault by location can help identify areas of risk. Results from the 2021 National Student Safety SurveyStudent show that student accommodation is particularly problematic. Similar reports from the UK and US warn against the alcohol-fuelled culture within dorms that result in them being the leading assault location.
As Australian universities seek to increase student accommodation offerings, it is important to learn lessons from these countries about sexual assault. But the pernicious issue of perceptions of safety and how they affect the way women use campus facilities also warrants attention. The corresponding data from the Student Safety Survey about locations for sexual harassment (rather than assault) shows many areas of campus where women may feel intimidated.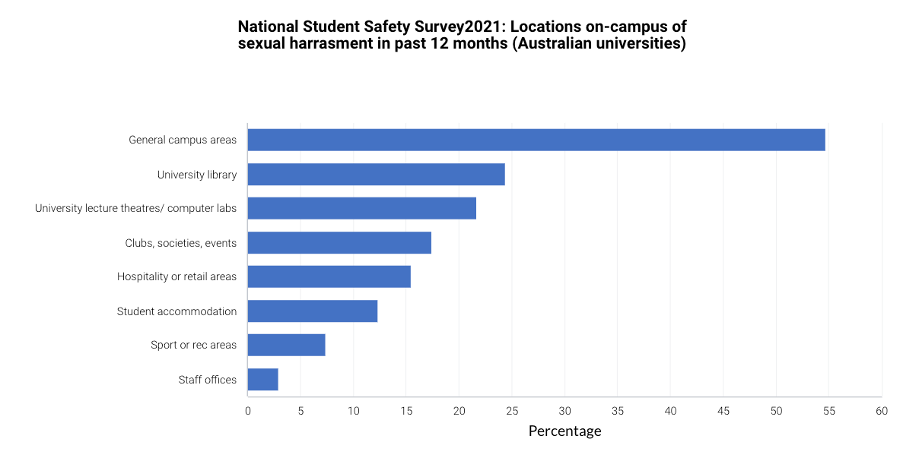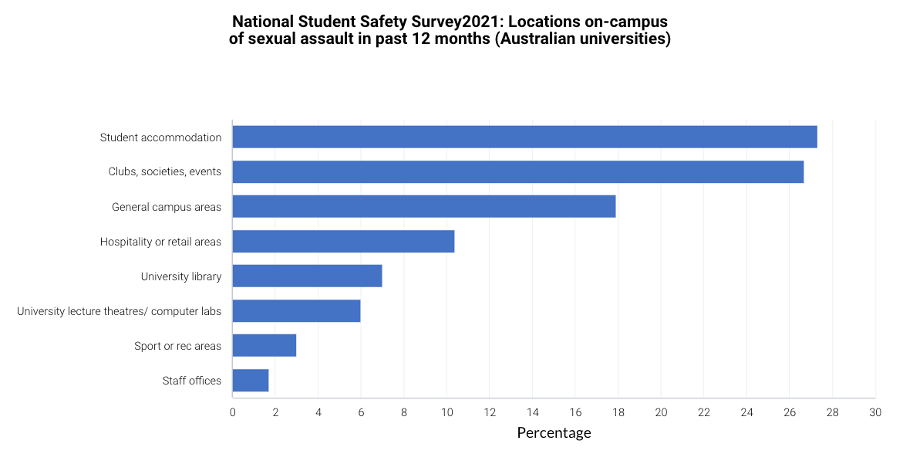 Women give us detailed comments about locations on campus where they feel particularly anxious which gives more context to the "general campus areas" in the charts above. Lanes, ovals and other large green spaces, footpaths to accommodation, public transport and parking, empty buildings and libraries (at night) are the most common places women feel unsafe. These are all places where lighting, security and spatial design can make a significant difference to perceptions of risk. The women's comments are in stark contrast to those from men, who often observe they have little to worry about (but do feel concern for female friends on campus).
With universities looking to improve space utilisation by offering more postgraduate and evening learning, women will shoulder more of an already heavy burden of the perception of risk on campus. Some comments from the Campus Experience Index demonstrate an unacceptable and highly inequitable level of discomfort felt by women when walking across their campus in the evening.
"At night, I just quickly walk to the bus behind the library, because the campus is not very well lit and many paths are not so level in case you do have to run."
"At night I walk faster, especially in the area between the lecture theatre and philosophy building, I quickly feel "boxed in" and vulnerable."
"‪I feel uncomfortable walking around at night. I will usually cut my study short to ensure I'm not walking to my car in the dark."
Perceptions of safety can change dramatically
The most significant gap that Campus intuition has recorded in safety scores between men and women on the same campus is 19%. That is, 71% of women (students) felt safe on campus compared to 90% of men. This gap was in a survey that took place shortly after a rape on that campus, highlighting a ripple effect across the student base. An attack breaks down the level of safety and trust people have, and this in turns impacts their use of the campus. Other significant events on campuses including a violent (non-sexual) attack at a different university in the same region also affected safety perceptions.
"After hearing about the recent rape during broad daylight on campus, I do not feel that safe anymore."
"After sunset, when it gets dark, the campus does give off an eery feel as it is quite dark overall, especially on the way to the bus stops and underpasses. I feel like I've had a sense of false safety after hearing of the sexual assault recently."
"I don't like walking around at night by myself, it feels creepy. As a woman, I've heard a lot of stories and even if they're about other universities it still makes me wary. I live off campus, and I make a point to leave before it gets dark."
Facilities can give inadvertent signals that influence safety perception and comfort. Clubs, societies and social events feature heavily in locations where safety is a concern. Women have told Campus Intuition how intimidating university gyms and clubs can be to join. A study in Victoria found that women are 2.5 times more likely to feel unwelcome at their sporting club. Much research has been done on how to make clubs and sporting facilities more functional for women, from change rooms to space layout.
"It was super intimidating seeing all the huge muscle dudes working out in the [university gym] windows. It's not so much people seeing me whilst walking by but sharing the space with these guys that's intimidating"
So what can you do to make sure your university campus provides safe spaces for everyone?
Students frequently tell us about a few things that make them feel safe:
External lighting and lines of sight
Having other people around, and knowing they are also from the university
Knowing security processes and who to contact if there is an issue (including apps phones, and distress buttons)
Security presence and CCTV
Secure building access at night
"I did some experiments over the weekend and it was safe but because the experiment was continued till late it was somewhat scary as no-one was there., I would say the key card requirement on every door during the weekend was the thing that help me calm my nerves as no one unauthorized could enter."
It is also important to acknowledge the discomfort some people feel on campus based on their gender, including transgender and non-binary individuals. Universities cannot solve all of these challenges, in the words of one student it is "the general stress of being a woman in the modern day". But we do believe that more can be done:
Consider the full impact of timetable programming, particularly into the evening. Is your university holding classes on areas of the campus that are quiet and disconnected?
Do you have a central and well-publicised 'late space' on campus that provides a secure study area?
Is the walk to transport links and parking adequately lit, close to classes and well- populated?
What is the gender participation in clubs, societies, gyms and sport? Could your facilities be sub-consciously excluding people?
What is your planned response to key incidents on campus? How do you communicate outcomes to help students feel safe?
Are your digital wayfinding solutions helping people find safe and accessible ways around the campus?
Do buildings used late at night have secure access?
Are you helping channel students into key thoroughfares as night falls?
Are CPTED guidelines front and centre or worked in later for new projects
First published on Future Campus